by Josie's Place
2nd – 3rd Grade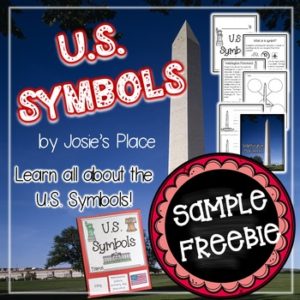 Enjoy this U.S. Symbols Flag Sample FREEBIE!
Then, check out my U.S. Symbols Unit where students will learn all about the significance of the following U.S. Symbols- Washington Monument, Lincoln Memorial, Statue of Liberty, Liberty Bell, Mount Rushmore, the White House, U.S. Capital, the flag, and the bald eagle.
♦♦♦Check out the Social Studies Bundle for Communities,
US Symbols, and Map Skills and Save BIG!! ♦♦♦
It includes this activity and others. Each of these are also sold separately.
CLICK HERE FOR THE SOCIAL STUDIES BUNDLE!I've included how I utilize this in my classroom, but feel free to implement it however you'd like.
Includes:
• 9 Total Readings- 1 for each U.S. Symbol. Each page includes pertinent information about the U.S. Symbol- where it's located and why it's important.
•9 pages of comprehension questions- (1 for each symbol) Includes a variety of multiple choice, matching, cut and paste, complete the sentence, text to self and text dependent questions to keep students engaged.
•U.S. Symbol End of Unit Assessment
•Webs for U.S. Symbols – You can utilize these prior to starting the unit to gather what information the children already know or use these as another note-taking option.
•U.S. Symbol Booklets- As students complete each page, they can take notes in their booklet.
•U.S. Symbol Match Up- Students match up the symbol, picture, and definition.
•Where in the USA Activity sheet- Students locate each of the symbols on a map.
•3 Additional Symbol Activity Sheets- Students choose their top 3 fascinating facts and create a new symbol for our country and themselves.
•U.S. Symbol Photos- 9 beautiful full-color photos to show the students what the U.S. Symbol looks like.
•Persuasive Writing Activity with template and
Paper for Letter Writing Activity
•Answer Keys (2 per page) to make it easier for correcting work.
Social Studies Bundle and Save!! 
Don't forget to check out my
Social Studies Bundle! which includes this activity- US Symbols, Communities, and Map Skills.
https://www.teacherspayteachers.com/Product/US-Symbols-Unit-SAMPLE-FREEBIE-2820422