Grades 4-7 and Homeschool
Sarah Peterson
Hands on History
THE TRANSCONTINENTAL RAILROAD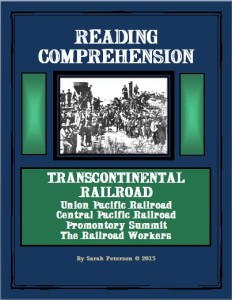 This product is great for Social Studies (History) and Language Arts (Reading Comprehension).  The product contains: NINE one-page passages of informational text on The Transcontinental Railroad;  NINE pages of reading comprehension questions (one for each passage); and the teacher's keys.   Questions are true or false; multiple choice and open ended, and include both literal and inferential questions.  The reading passages can be used for CLOSE READING with other non-fiction graphic organizers as well!
THIS PRODUCT IS GREAT FOR A QUICK SAMPLE FOR CHARTER SCHOOLS!   It may be used for Independent Reading, Homework, or as a Supplemental Homeschool Worksheet.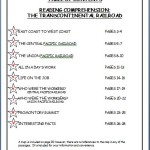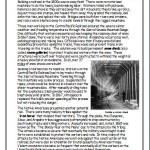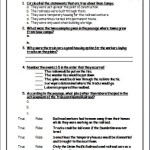 TOPICS INCLUDE:
EAST COAST TO WEST COAST
THE CENTRAL PACIFIC  RAILROAD
THE UNION PACIFIC  RAILROAD
ALL IN A DAY'S WORK
LIFE ON THE JOB
WHO WERE THE WORKERS?  CENTRAL PACIFIC RAILROAD
WHO WERE THE WORKSERS?   UNION PACIFIC RAILROAD
PROMONTORY SUMMIT
INTERESTING FACTS: THE TRANSCONTINENTAL RAILROAD
Grades 4-7 and homeschool
Please note:  The Informational Text also appears in my Wild West Career Lesson Plan; however, the reading comprehension questions are not a part of that lesson plan.
 Click Here to Download the Preview!
 Visit my Store for more history-based lesson plans, bingo and more!
Happy Learning!
Sarah