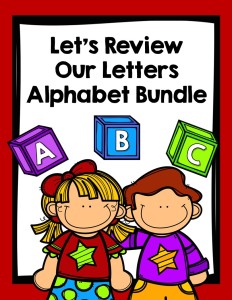 This packet provides numerous opportunities to review all of the letters of the alphabet. It's perfect for review at the beginning or end of the school year. It's also a great tool to keep students practicing over summer.
All products in this bundle are aligned to the common core standards for kindergarten.
This bundle contains all of the following products:
Letters A-E Review Pack
Letters F-J Review Pack
Letters K-O Review Pack 
Letters P-T Review Pack
Letters U-Z Review Pack
Each Review Pack Contains:
**Letter Writing Practice (capital and lowercase)
**Letter Puzzles
**Letter and Picture Matching
**Capital and Lowercase Letter Sort
**Letters Books
**Beginning Sound Practice
**Match and Color
**Find and Graph the Letters (capital and lowercase versions)
**Dot the Beginning Sound
**Color by Letter
**Peek and Write Flip Flap
**Dot Marker Picture (capital and lowercase versions)
Thanks!
Ashley