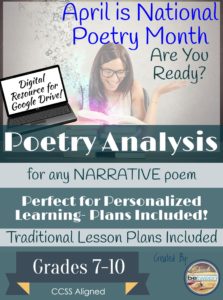 This Narrative Poetry unit is perfect for personalized, differentiated, flipped, and/or 1:1 technology classrooms!
AND
This pack also works great in teacher led and planned traditional classrooms! PDF printable options are included on EVERY activity! I have included lesson plans and unit plan for both types of instruction!
I have recently opened my teaching style to include a personalized learning platform of teaching and learning. I have relied less on prescribed texts for all students, and started offering more voice and choice in learning options, as well as assessment options. I have included both a standard set of lesson plans, as well as a personalized learning plan and week outline of teaching, coaching, and assessing options.
19 pages covering critical literary analysis skills including extended response questions, and graphic organizer to support in drafting quality responses that include textual evidence! Rubric included!
Topics Covered:
-Plot Analysis
-Tone
-Mood
-Imagery Analysis
-Elements of Poetry
-Foreshadowing
-Irony
-Allusions
-Extended Response Questions- with graphic organizers AND rubric.
CCSS Aligned!
Two week personalized teacher plan included!