Make a beautiful Trophy Card for Father's Day with your students
https://www.teacherspayteachers.com/Product/Spanish-Fathers-Day-Students-Make-a-Fathers-Day-Trophy-Card-Dia-del-Padre-1878495
This exciting lesson has a beautiful cover page of a trophy in Spanish .
1. Print the cover page in white cardboard.
2. Go over the 15 Why I love you dad sentences. "Porque te quiero papa…"

3. Have students write on the back of the card the phrases they selected. They need to select at least eight of the sentences. They have to copy them to the back of the card in Spanish. Great adjective review.
4. They will be able to take it home and give it to their dad. If you have a small class you might even laminate them to take them home. Encourage them to memorize some sentences. It will be cool for them to say something to their dads in Spanish. Great way for you to show parents some of the vocabulary words learned and speaking competencies.
5. Complete 20 words Spanish Word Search- Split students into small teams. Have teams compete to find the meaning of the words for a classroom pass. Have them compete to find the words and provide another homework pass. Great way to review adjectives cognates and have a wonderful day celebrating Father's Day in your class.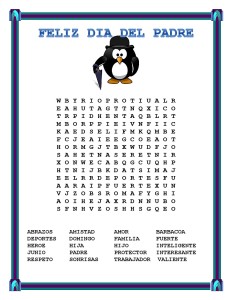 Enjoy your cards!
¡FELIZ DIA DEL PADRE!
VISIT MY TpT STORE FOR MORE FUN SPANISH LESSONS
URL: http://www.teacherspayteachers.com/Store/El-Jaguar