https://www.teacherspayteachers.com/Product/Hunger-Games-Evaluation-1062952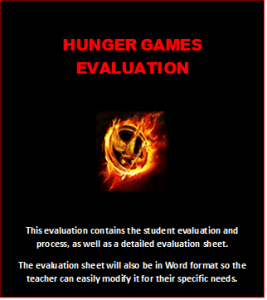 PRODUCT DESCRIPTION
This is a culminating evaluation for Suzanne Collins' "The Hunger Games". This evaluation allows students to explore the novel's theme of injustice in a mini-research paper by exploring some of the injustices in our world and by making associations with the novel. Students are also asked to think of ways we can help improve these unjust situations in our world.
The evaluation itself is in PDF format and is zipped to include the evaluation rubric in Word format for easy adaptations.
I hope you and your students enjoy learning from this evaluation.
It's teaching made easy!
For contests, promotions and other freebies, visit my Facebook page. https://www.facebook.com/pages/Teaching-Made-Easy/734339640007672