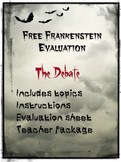 The Frankenstein Debate Package includes topics for students, a Procedure Sheet to help teachers take notes during the debate, as well as an evaluation sheet.
I hope you enjoy this document.
If you enjoy it, please visit my store to see what else I have to offer and leave a comment.
It's teaching made easy!
IF YOU ARE NOT ABLE TO OPEN THE ZIP FILE, PLEASE
E-MAIL ME at teachwithpassion101@gmail.com . Be sure to include your e-mail address and buyer's name. I will send you an attachment directly to your e-mail address.