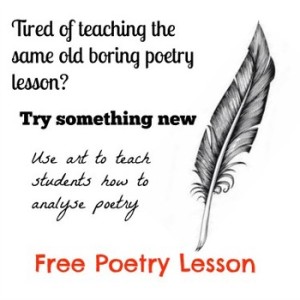 Use this free lesson to introduce poetry to your English students from grades 9 to 12. This is the first lesson from my Intermediate Poetry unit, which uses art to help students how to understand and analyze poetry.
The document includes:
-a comprehensive lesson plan
-student notes
-an answer key
IF YOU ARE NOT ABLE TO OPEN THE PDF FILE, PLEASE
E-MAIL ME at teachwithpassion101@gmail.com . Be sure to include your e-mail address and buyer's name. I will send you an attachment directly to your e-mail address.