This is a NO PREP boo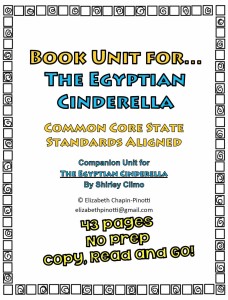 k unit for "Egyptian Cinderella" — a Cinderella book by Shirley Climo. This is an engaging differentiated unit that contains interactive notebook pages, writing assignments, quizzes, printables, cross-curricular activities, literary
elements and a whole lot more!
This Cinderella around the world unit is full of engaging common core aligned assignments that are perfect for the 21st Century Classroom.
Check out my other Cinderella Around the World Lessons at Elizabeth's Lessons: Cinderella Around the World!
Table of Contents
Cinderella Elements
Table of Contents
Cinderella Elements
#1 Draw A Title Page
#2 Questions Along the Way
#3 In My Opinion
#4 Constructed Response Questions
#5 Story Connectors
#6 Character Analysis
#7 Correct the Grammar Errors
#8 Comprehension Quiz
#9 Character Conflicts
#10 Sentence Sorting
#11 Sentence Sorting – My Own Strips
#12 Sentence Sorting to Essay Writing Enrichment
#13 Dictionary Skills
#14 Compare and Contrast Rhodopis and other Egyptian Girls
#16 Compare and Contrast Rhodopis and Cinderella
#17 Read and Write Argumentative: Social Studies
#18 Story Summary
#19 Character Changes
#20 Text to Text – Cross Fiction Story Analysis
#21 My Thoughts While Reading…
#22 Inferring Character Feelings
#23 Cause and Effect
#24 Compare and Contrast – Story Elements
#25 Think, Question, Analyze
#26 The Egyptian Cinderella Report Card
#27 The Egyptian Cinderella Book Review
#28 Sentence Sorting Traditional Cinderella
#29 Lights, Camera, Action
Constructed Response Rubric Guide
Constructed Response Rubric
Answers
Samples of Interactive Notebook