November No Prep — Not Your Normal November Unit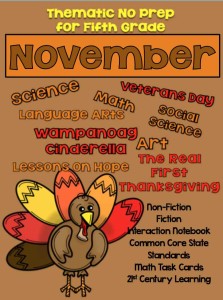 This No Prep Unit includes printables and passages that can easily stand-alone or serve as springboards for discussion and expansion. They are November and Thanksgiving themed and most are matched with video or interactive clips from Scholastic, History.com and Plimouth Plantation.
This No Prep Unit contains social studies activities, Common Core State Standards aligned English Language Arts and math lessons, art projects, school culture and hope projects, math task cards, a science experiment and an all new Wampanoag Cinderella story with an huge interactive notebook literary component to help deepen student understanding of literary elements and the Wampanoag culture.
92 page
20 Math Task Cards – November Themed
Table of Contents
November Outline and Clips to Watch Math the Printables and Lessons page 3
#1 Wampanoag Facts Printable page 5
#2 Wampanoag Facts Printable: Language page 6
#3 Wampanoag Folklore Printable page 18
My Own Wampanoag Tale page 19
# 4 My Notebook Wampanoag Words page 23
# 5 Before the First Thanksgiving page 25
# 6 The First Thanksgiving page 26
# 7 The Mayflower page 27
# 8 The Landing page 28
# 9 The Mayflower Compact page 29
# 10 Plymouth Colony – What Would You Do? page 30
# 11 My Compact page 31
# 12 The Pilgrims page 32
# 13 Harvest Festival page 33
# 14 Doubling it Up – A Little Turkey Day Math page 34
Achiq: The Wampanoag Cinderella – The Story page 35
Achiq: The Wampanoag Cinderella – Interactive Notebook Story Unit page 40
Thanksgiving Science: Cranberry Chemistry – Spy Ink page 76
Turkey Glyphs page 80
Fall Art Projects page 84
Leaf Pressing
Corn Husk Dolls
Make a Mayflower
# 15 Veteran's Day page 85
I Am Hopeful – I Am Thankful Unit page 87
A unit that helps students find hope in their lives as well as
things to be thankful for.
Thanksgiving Math page 91
Hubbub page 92
Fifth Grade Thanksgiving/November Math Task Cards page 93
---