by Elizabeth Chapin-Pinotti
Grades 2, 3, 4 and 5
This is a no prep unit for "Cindy Ellen: A Wild Western Cinderella"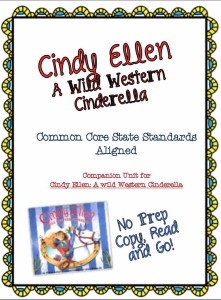 by Susan Lowell. These engaging activities are turn-key…read the story to your class or have them read it as part of literature circles, go over the Cinderella story elements and engage them with these lessons!
Activities are naturally differentiated and aligned with the Common Core State Standards. Engaging interactive notebook pages included.
Included:
Table of Contents
Cinderella Elements
#1: Cindy Ellen Problem Solution Interactive Notebook Page
#2: Cindy Ellen Character Traits RL.3
#3: Joe Prince Character Traits RL.3
#4: Critical Thinking Literature Questions Interactive Notebook Page
#5: Ask and Answer Questions from the Story RL.1
#6: Inferring RL.6
#7: Cindy Ellen – What do you think? RL.1 and 3
#8: Problem/Solution Interactive Notebook Page RL.5
#9: Critical Thinking Questions
#10: About Cindy Ellen RL 1 and 2
#11: Recounting Cindy Ellen
#12: Character Motivation and Evidence RL.5
#13: Idioms: RL.4
#14 Cindy Ellen: Character Conflicts RL.1 and 3
#15 Sentence Sorting RL.2
#16 From Sentence Sorting to Essay Writing RL1 and 2
#17: Quick Write: Compare and Contrast RL.9
#18: Text-to-Text RL.9
#19: I Can Answer Questions About the Text RL.1
#20: Theme
#21: Moral RL.2
#22: Inferring RL.6
#23 Retell the Story through your Favorite Drawings RL.7
#24: Cause and Effect
#25: Cindy Ellen Report Card
#26; Cindy Ellen Book Review
Rubric for Constructed Response
Don't for get to look at my other Cinderella Units!!
If you have any questions…please email me at elizabethpinotti@gmail.com
Thanks for looking and have a great day!