by Elizabeth Chapin-Pinotti
Grades 2, 3, 4 and 5
Jouanah: A Hmong Cinderella No Prep Unit: Common Core Aligned Link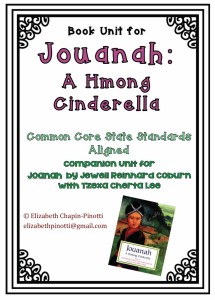 This is a no prep unit for Jewell Reinhard Coburn's "Jouanah: A Hmong Cinderella. These engaging activities are turn-key…read the story to your class or have them read it as part of literature circles, go over the Cinderella story elements and engage them with these lessons!
Activities are naturally differentiated and aligned with the Common Core State Standards.
Included:
#1: About Jouanah…In My Opinion
#2: Jouanah Story Connectors
#3: Story Characters – Jouanah
#4: Jouanah Grammar Fix
#5: Sentence Sorting – Cinderella
#6: Jouanah Sentence Sorting
#7: From Sentence Sorting to Essay Writing
#8: Jouanah Dictionary Skills Activity
#9: Comprehension Quiz for Jouanah: The Hmong Cinderella
#10: Questions Along the Way
#11: About: Jouanah: A Hmong Cinderella: In My Opinion…
#12: Jouanah: A Hmong Cinderella: Constructed Response #12
#13: Jouanah: A Hmong Cinderella — Character Conflicts
#14: Quick Write Compare and Contrast
#15: About the Author
#16: Story Summary
#17: Character Changes
#18 Text to Text: Connection Fiction Texts
#19: My Thoughts While Reading Jouanah: A Hmong Cinderella
#20: Inferring Character Feelings
#21: Cause and Effect
#22: Compare and Contrast Cinderella and Jouanah
#23: Think, Question and Analyze
#24: Jouanah: A Hmong Cinderella Report Card
#25: Jouanah: A Hmong Cinderella Book Review
#26: Lights, Camera, Action
Answers
If you have any questions…please email me at elizabethpinotti@gmail.com
Thanks for looking and have a great day!