Multiplication Teaching Activities that help students transition to Middle School Math
A fantastic Multiplication bundle of activities that are excellent for students in 4th – 6th Grade. It helps students transition into middle school and learn the various methods to multiply.
Over the years, I learned that it is a huge transition for students from elementary to middle school with basic math skills. In elementary school many students are taught various strategies and methods to add, subtract, multiply, and divide.
Yet, when the students get to middle school they need to be strong in the algorithm method of math skills. For this reason, I believe it is great to utilize the various strategies and assist students to making the transition to solve multiplication problems which is why this product was created.
Engage your students with multiple multiplication activities that include visuals, hands on tasks, and more!
Enjoy a Multiplication Card Game – Great in Stations.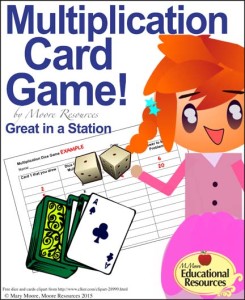 Or a BUNDLE of Multiplication Activities!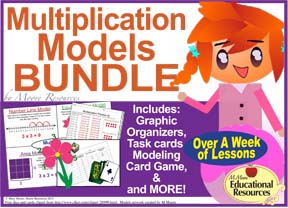 This complete bundle of games, activities and stations is a great resource to meet common core standards and engage students!
Included are:
Colorful Engaging Graphic Organizer for interactive notebooks,
Guided graphic organizer,
Multiplication task cards,
Multiplication Model task cards,
Multiplication Card Games/Station,
Vocabulary lesson,
Activity sheets that may be used as
classwork, homework, or assessments
teaching tips & ideas
and MUCH MORE!
Get this Fantastic Bundle at ~ https://www.teacherspayteachers.com/Product/Multiplication-COMPLETE-Bundle-of-Activities-with-Guided-Graphic-Organizer-1947741 
Or Visit my TpT Store for more Multiplication Products!
Best Wishes, M Moore
M Moore Educational Resources
TpT Store
https://www.teacherspayteachers.com/Store/Moore-Resources
Pinterest
https://www.pinterest.com/mooreeducresour/
Facebook
https://www.facebook.com/mooreeducationalresources
©2015 M Moore, Moore Resources, You may share, pin, like, share, & repin, just not copy
______________________________________________________________________