by Laura Randazzo
9th – 12th Grade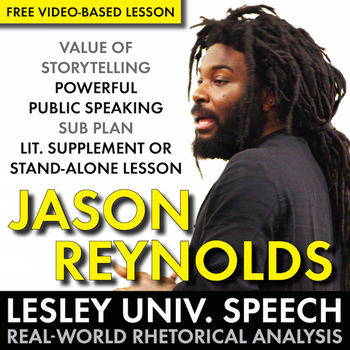 Use Jason Reynolds' commencement address at Lesley University to show your students the power of a well-constructed speech. In this one-class period activity, students will discuss the techniques of effective public speaking, view Jason Reynolds' 10-minute speech, and deconstruct/discuss his use of rhetorical devices. Questions focus on audience, the value of storytelling over lecture, and rhetorical application of poetic devices including foreshadowing and symbolism. These print-and-teach materials can serve as a stand-alone lesson or as a supplement to any literature study that focuses on issues of equity and social justice.
Jason Reynolds is the New York Times best-selling author of many works, including Ghost, All-American Boys, and Long Way Down. You can learn more about him at jasonwritesbooks.com.
Want more high-interest speeches for your students to analyze? Check out these materials based on Oprah Winfrey's Golden Globes speech and Steve Jobs' commencement address at Stanford University:
https://www.teacherspayteachers.com/Product/Oprah-Winfreys-Golden-Globes-Speech-Real-World-Rhetorical-Analysis-CCSS-3578438
https://www.teacherspayteachers.com/Product/Expository-Text-Steve-Jobs-Tools-of-Rhetoric-Non-Fiction-Multimedia-CCSS-876830
Want podcast-based assignments that'll help your students develop their listening skills? Check out this bundle of popular Listen & Learn lessons:
https://www.teacherspayteachers.com/Product/Listening-Skills-Podcast-Based-Listening-Activities-Listen-Learn-5-Pack-CCSS-3206742
Thanks for stopping by!
Image Credit: Farrell Howe, Flickr, Public Domain Mark 1.


https://www.teacherspayteachers.com/Product/Jason-Reynolds-FREE-LESSON-Rhetorical-Analysis-Public-Speaking-Sub-Plan-CCSS-4109789
Join The Best of Teacher Entrepreneurs Marketing Cooperative at
http://www.thebestofteacherentrepreneursmarketingcooperative.com/2014/01/the-best-of-teacher-entrepreneurs.html
and get THOUSANDS OF PAGE VIEWS for your TpT products!

Victoria Leon's TpT Store
Go to http://www.pinterest.com/TheBestofTPT/ for even more free products!







---