by Bonjour French Prof
Kindergarten – 12th Grade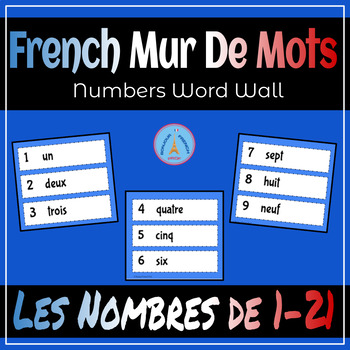 These French Word Wall Number Cards are a great tool for helping your students to talk about the date, time, birthdays and other number related topics from day one! Use as flashcards or add these numbers to your French word wall. Thanks for stopping by my TpT store. Please check back often as I am working on updating my store frequently! Or follow me for updates and sales!
Merci Beaucoup!
Psst… Hey you! Yes, that's right. You there with the coffee cup scrolling through TpT looking for that one item that is going to make your teacher life effortless and magical. First of all, thanks for landing here in my store. Secondly, there is no such item that exists, but maybe you can find something in my store that might make your teacher life just a little bit easier. This is my very first product ever created for TpT so I hope that you will understand that I am still learning. Like, for example, why does this product only include the numbers up to 21, you might ask? Well, the first thing I learned is that your first demo product can only have 10 pages. So, if you want enough numbers to say, include all of the numbers in a month so that you can talk about the date or birthdays with your students, well, not to worry, I've got you covered. Look no further. Here is the link to my second product ever created for TpT and it does, indeed, have all of the numbers up to 31: French Mur de Mots: Les Nombres 1-31
If you are still reading this, well thank you again. I don't have a website or blog (yet) so I figure I might as well use all of this free space to get your (or someone's) attention. I dedicate this space to that first person who downloaded my freebie item. Thank you for making me feel seen! Starting a store on TpT can be a bit discouraging and, honestly, a bit lonely at the beginning and I appreciate you for trying my product. Please know that I am learning and improving every day. So please feel free to follow me and check back to see what new items I am adding to my store. Thanks for being a part of my TpT journey!
Did you know that you can earn TpT credits by leaving feedback for items that you have purchased on TpT? Simply click on your "My Purchases" tab then choose a product to review and click "Leave a Review" –It is that easy! This helps sellers to create high quality products and it helps buyers to find their products more easily on TpT. Thanks so much for your support!
And if you are still reading this–Wow! Thank you! It's time to move on now. Have a look at one of my favorite items: Mindful French Coloring Pages
Have a wonderful day !
Merci!
https://www.teacherspayteachers.com/Product/French-Numbers-Word-Wall-Mur-de-Mots-Les-Nombres-1-21-Numbers-Chat-Decor-8242783
Join The Best of Teacher Entrepreneurs Marketing Cooperative at
https://thebestofteacherentrepreneursmarketingcooperative.net/the-best-of-teacher-entrepreneurs-marketing-cooperative-one-year-membership/
and get THOUSANDS OF PAGE VIEWS for your TpT products!

Go to http://www.pinterest.com/TheBestofTPT/ for even more free products!


---