by Connie
6th – 12th Grade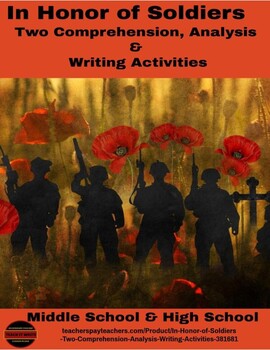 This is an activity for Middle School and High School students to honor and remember all military personnel who died in battle (Memorial Day), and all men and women, living or deceased who served in the military (Veteran's Day).
Students select a book to read from the list provided, or one that they choose. After they read the book, they complete two projects: one more visual, and the second where they write a letter to an active duty soldier (websites are given for addresses).
Teachers can also use the activities in this posting if they are reading a military-based book as a class (example: All Quiet on the Western Front-Remarque, The Red Badge of Courage-Crane, or The Things They Carried- O'Brien).
For more activities based on reading literature and then writing about it, check out
https://www.teacherspayteachers.com/Product/Literary-Analysis-Writing-About-Reading-1118924
and
https://www.teacherspayteachers.com/Product/LITERATURE-LIVES-The-Power-of-Perspective-3269556
Enjoy a Teach It Now Day Every Day,
Connie
Follower Advantage
For an automatic Heads-Up! email about Updated and New products, and also for Sales and other promotions, please click on the Follow Me star under my Store name, Connie.
High School lesson plan Language Arts lesson plan
https://www.teacherspayteachers.com/Product/In-Honor-of-Soldiers-Two-CCSS-Comprehension-AnalysisWriting-Activities-381681
Join The Best of Teacher Entrepreneurs Marketing Cooperative at
https://thebestofteacherentrepreneursmarketingcooperative.net/the-best-of-teacher-entrepreneurs-marketing-cooperative-one-year-membership/
and get THOUSANDS OF PAGE VIEWS for your TpT products!

Go to http://www.pinterest.com/TheBestofTPT/ for even more free products!


---