by Fun monkey bars
1st – 2nd Grade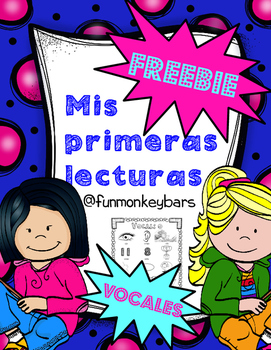 Una muestra con las cinco vocales del producto completo que se puede ver en el siguiente enlace:
Mis primeras lecturas es un manual de aprendizaje para aquellos lectores que se están iniciando en el español ya sea como lengua materna o como segundo idioma.
La manera en la que se presenta el contenido ayuda a aprender nuevo vocabulario y también es una buena herramienta para reforzar los sonidos y la fonología de esta lengua.
Se presenta en blanco y negro para que pueda ser fotocopiado a los niños y que sean ellos mismos los que pinten cada dibujo una vez han leído correctamente la palabra.
Después de la lectura pueden hacer frases y actividades de escritura para reforzar lo trabajado. Es adecuado para reforzar también las sílabas y la ortografía del español.
Se puede utilizar en gran grupo, en pequeño grupo, en círculos de lectura, en parejas o individualmente.
También puede que te interese varios mini libros de este producto. Puedes verlo en el siguiente enlace:
MINI BOOK, LECTURA Y ABECEDARIO

https://www.teacherspayteachers.com/Product/Mis-primeras-lecturas-FREEBIE-2654740
Join The Best of Teacher Entrepreneurs Marketing Cooperative at
https://thebestofteacherentrepreneursmarketingcooperative.net/the-best-of-teacher-entrepreneurs-marketing-cooperative-one-year-membership/
and get THOUSANDS OF PAGE VIEWS for your TpT products!

Go to http://www.pinterest.com/TheBestofTPT/ for even more free products!


---