by Innovative Teacher
2nd – 8th Grade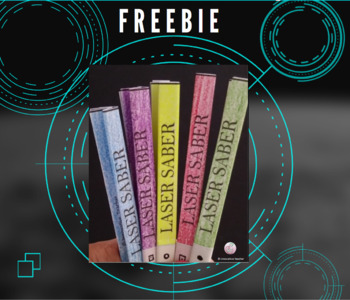 You have just found a gem! My students have thoroughly enjoyed creating this origami while igniting their critical thinking process. At the same time, you get at least 20-30 minutes of quiet time while your students work independently and they get to take home their handmade treasures.
In this product, you will receive detailed written AND pictured instructions on how to fold a 6 by 6-inch paper origami. The two forms of instructions are given to help you differentiate between your student's various learning styles.
You also receive a preprinted template for each student that will guide them in the folding process at their own pace. This template will greatly help those students that have never folded origami before. You also have the option to print the template on white or colored paper.
This is a low prep activity for you and loaded with tons of creativity for your students!
You also might like my other origami products below. Just click below to preview!
Sci-Fi Laser Saber Origami FREEBIE by Innovative Teacher is licensed and cannot be distributed/shared without the purchase of an additional license.
Follow Me to receive updates on freebies and giveaways!
♡Blog

https://www.teacherspayteachers.com/Product/Sci-Fi-Laser-Saber-Origami-FREEBIE-3561891
Join The Best of Teacher Entrepreneurs Marketing Cooperative at
https://thebestofteacherentrepreneursmarketingcooperative.net/the-best-of-teacher-entrepreneurs-marketing-cooperative-one-year-membership/
and get THOUSANDS OF PAGE VIEWS for your TpT products!

Victoria Leon's TpT Store
Go to http://www.pinterest.com/TheBestofTPT/ for even more free products!






---