https://www.teacherspayteachers.com/Product/Frankenstein-Activity-1110383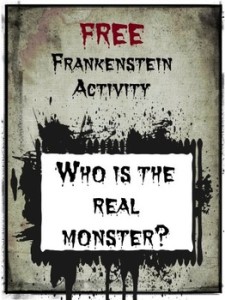 PRODUCT DESCRIPTION
Who is the real monster in Frankenstein?
This activity has been designed to help students to understand the creature's character. Is he a friend, or is he an enemy? Is he solely responsible for his misery?
This activity helps to develop students' argumentation skills in a fun and meaningful way.
I hope you enjoy it.
It's teaching made easy!
IF YOU ARE NOT ABLE TO OPEN THE ZIP FILE, PLEASE
E-MAIL ME at teachwithpassion101@gmail.com . Be sure to include your e-mail address and buyer's name. I will send you an attachment directly to your e-mail address.