by HappyEdugator
4th – 12th Grade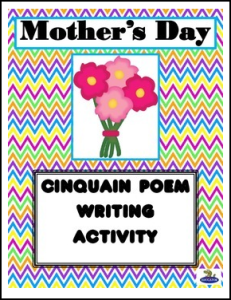 Mother's Day Free – Cinquain Poem. A Holiday Poem Activity. Print and go Mother's Day writing activity. This handout gives directions for writing a cinquain poem, an example of how it works, and a place to create your own to cut out and give as a gift. Looks lovely in a frame. Create one with craft sticks, hot glue, and decorate with paint and buttons, sequins, etc.
This goes well with my PowerPoint on writing Cinquain Poetry:
Cinquain Formula Poem PowerPoint.
You may also like:
Be the first to know about my new discounts, freebies and product launches:
• Look for the green star near the top of any page within my store and click it to become a follower. Voila! You will now receive customized message updates about this store. ☺
Customer Tips:
How to get TPT credit to use on future purchases:
• Please go to your My Purchases page (you may need to login). Beside each purchase you'll see a Provide Feedback button. Simply click it and you will be taken to a page where you can give a quick rating and leave a short comment for the product. I value your feedback greatly as it helps me determine which products are most valuable for your classroom so I can create more for you. ☺
– HappyEdugator
©2014HappyEdugator. All of the activities included in this product are the intellectual properties of Deborah Hayes aka HappyEdugator. This resource is for classroom or homeschool use and is intended for the purchaser. Duplication for other classes, for other teachers or for use in wide distribution is not allowed. This material is protected under the Digital Millennium Copyright Act.
https://www.teacherspayteachers.com/Product/Mothers-Day-Free-37058
Go to http://www.pinterest.com/TheBestofTPT/ for even more free products!