https://www.teacherspayteachers.com/Product/Opinion-Piece-Bundle-1146884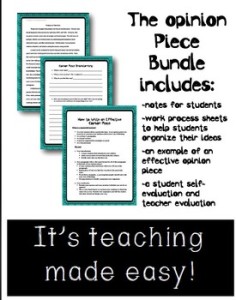 PRODUCT DESCRIPTION
How to write an effective Opinion Piece Bundle includes:
-notes for students (What is an opinion piece? How do we write an opinion piece?…)
-work process sheets to help students organize their ideas
-an example of an effective opinion piece (an effective tool for teaching)
-a student self-evaluation and teacher evaluation
Want to catch those 50% off deals? When I first list my products, I put most of them on sale for 50% off for the first day or two! If you follow my store, TPT will send you an email when I post something new. Also, it will show up in the status on the main page as soon as I post. To follow, look under where my logo is located and click on "follow me." Thank you!