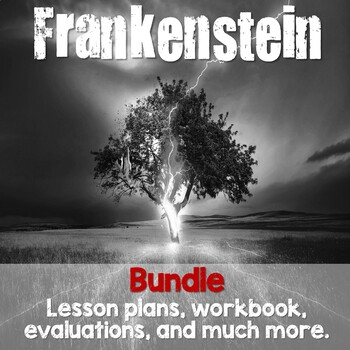 Description
This Frankenstein bundle was created with the teacher and students in mind.
It contains the teacher lesson plans, two different workbooks (to suit different learning needs or to use with different groups), all evaluations for the unit, and comprehensive answer keys for all work.
Check out the individual bundle previews for more information.
FRANKENSTEIN UNIT – Complete with no prep for you.
This unit is created using the 1831 edition of the novel.
This unit has been created with the teacher in mind. The material is geared toward senior students with a focus on the construction of arguments. It also teaches the importance of historical context as well as literary allusions in the development of themes.
I am a strong believer that when students work with a specific purpose in mind, they become better learners. That's why my units contain only quality and worthwhile activities. You will find no busy work here. Every lesson focuses on teaching students analytical and essay writing skills.
All of the thinking and planning are done for you. The lesson plans are detailed and comprehensive. The student guide is visually appealing, and so the teacher put effort where they need to be. The answer key is complete and detailed. All you need to do is to purchase this unit and photocopy it.
Take a look at the preview for more information.
The unit includes:
1) The Teacher Package
❒ contains 23 detailed lessons (60-90 minute lessons)
❒ leading discussion questions and skill-building activities (with detailed instructions for the teacher)
❒ important chapter notes on analysis
❒ the teacher package helps the teacher stay on task and stay organized because the planning has been done for you.
2) The Student Package (19 pages) – (A Google version is included for student activities)
❒ pre-reading activity
❒ study guide questions (*improved with more thinking questions for students)
❒ a fact sheet regarding the Prometheus myth
❒ activity on the use of nature in romantic literature
❒ an activity based on the symbols in the novel
❒ several activities that teach argument development
❒ activity on theme development
❒ an activity on characterization to bring about themes
3) A comprehensive answer key (32 pages)
❒ detailed answers to ALL student activities and work
❒ an annotated copy of the poem "The Rime of the Ancient Mariner" and activity answer key.
4) Also included:
❒ a PowerPoint introducing the novel's historical context and the author
❒ a copy of "The Rime of the Ancient Mariner."
5) Various evaluations are also included: ALL EVALUATIONS ARE IN WORD DOCUMENTS to MODIFY FOR CLASSROOM NEEDS.
❒ Test on letters 1-4 and chapters 1-10 (choice between multiple choice OR development questions)
❒ Test on chapters 11-18 (choice between multiple choice OR development questions)
❒ Unit evaluation (Choice between an essay (several different versions), a debate, a unit test – all work process is included)
ANSWER KEYS AND EVALUATION GRIDS ARE INCLUDED FOR ALL EVALUATIONS.
*As a bonus, I have included two automatic comment generators for Word documents (with drop-down boxes.)
Documents are downloaded as PDF files (except for evaluations)
The Frankenstein Workbook was created as a different way to learn from Mary Shelley's novel. (1831 edition)
The Student Workbook has 30 pages that focus on themes, symbols, important quotes, characterization, romantic and gothic literature, biblical and literary allusions, and elements of the plot.
The format includes symbols to help guide students in theme development and allow them to build on characterization, symbolism, and meaningful allusions in the novel in a clear and more visual way.
PRODUCT CONTENT:
Student Workbook x1 (30 pages)
Answer Key x1
Copy of the Rime of the Ancient Mariner x1
Annotated copy of The Rime of the Ancient Mariner x1
Please note that this is a digital download in PDF format and that the pages are not editable.
WORKBOOK CONTENT:
❒ Background information
❒ Anticipation Guide and Introductory Activity
❒ Letters 1-4
❒ Chapters 1&2
❒ The Rime of the Ancient Mariner (allusion in the novel)
❒ Chapters 3, 4 & 5
❒ Chapters 6, 7 & 8
❒ Chapters 9 & 10
❒ Chapters 11 & 12
❒ An activity
❒ Supplementary activity – Nature in Romantic Literature
❒ Chapter 13 (activity)
❒ Chapters 14 & 15
❒ Chapter 16
❒ Chapters 17 & 18
❒ Chapter 19
❒ Chapters 20 &21
❒ Chapter 22
❒ Chapters 23 & 24`
❒ Activity on symbolism
❒ Activity on theme development
Paragraph Writing Activity in conjunction with Frankenstein
Very often, students have difficulty with the analysis process involved in literature. Where they not only have to analyze but now have to apply their newfound skills to a well-developed paragraph, some students become overwhelmed with the process.
This particular activity will focus on both the analysis and writing a paragraph using the PEEL method.
Paragraph writing and analysis are two essential components in essay writing. To facilitate this process, I have created a lesson where students can become more comfortable with the revision process by modelling the proper steps from beginning to end. The lesson includes modelling the writing process from understanding the topic to the final draft. See preview for details
This lesson can only be used after students have read chapter 19 of the novel Frankenstein.
FRANKENSTEIN NOTE-TAKING FOR CRITICAL THINKING
This thought-provoking resource encourages students to think critically about the novel to extend their knowledge of themes and how they are developed. The package is a great alternative to the traditional comprehension questions usually assigned by teachers and invites students to think deeply about the materials read. The instructional strategy used within these pages is similar to that of a "flipped classroom" created to further engage students in their learning.
Instead of traditional comprehension questions given after chapters, students are given guided note-taking sheets (in Google Docs) where they are prompted on what kind of information to focus on within each chapter. For example, some chapters rely heavily on symbol development while others focus more on character development. Students will learn how to take effective notes and how to ask effective questions thus developing the novel's themes. The second part of the sheet requires students to extend their learning by participating in small group discussions where they learn how to ask Socratic questions, discuss important novel elements in guided discussions, and participate in creative activities to further investigate the characters' motivations.
Each sheet prompts students on which information to focus their notes on and includes a group activity where students are encouraged to develop their own questions based on the chapters' thematic focus to deepen their understanding of the intricacies of the novel and the literary elements used to develop themes. This teaching strategy creates independent and responsible learners. When students have completed their group work, a guided discussion with the entire class highlights different perspectives on how to analyze Shelley's classic tale.
All materials are available in Google Docs and are modifiable.
Students learn how to:
Be independent
Take good notes
Work in a group setting
Ask good questions
Be responsible in their learning
Analyze the novel
Become engaged in their learning
To think critically
Also included:
Success criteria, overall expectations, and an evaluation grid are included for teachers who want to evaluate the notes and the group discussions.
Peer and Self-Evaluation grids are included for students
Pacing guide for the teacher to help with planning
This resource also pairs well with my Frankenstein Unit and Frankenstein Workbook.
A total of 30 pages.
Check out the preview for a free sample – CLICK HERE FOR A FREE EXCERPT.
You may also be interested in the following products:
❒Thematic Poetry Unit: Editable
❒Brave New World Student Notebook
❒Death of a Salesman No Prep Unit
❒Lord of the Flies No Prep Unit
❒Poetry Unit for Senior Students
❒The Yellow Wallpaper No Prep Mini-Unit
It's teaching made easy!
Total Pages
256 pages
Answer Key
Included with rubric
Teaching Duration
N/A
---