by Mrs Magee
Kindergarten – 2nd Grade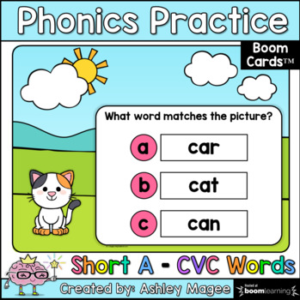 Purposeful, paperless practice! This Boom Cards™ deck provides students practice with reading cvc words containing short a. They will look at the picture and identify the word that names the picture.
Words included are: cat, bag, fan, map, tag, van, mad, pan, bat, cap, jam, rag, can, ham, nap, pad, hat, cab, rat, dad, wag, ram, ran, tap, sad, wax, tab, sat, bad, and lap.
PDF Includes:
A link to your purchased deck on Boom Learning℠ which contains 30 cards
An optional printable student writing sheet
What is Boom Learning℠ and what are Boom Cards™?
Boom Cards™ play on modern browsers (released in the last three years) on interactive whiteboards, computers, tablets, Chromeboos, iPads, iPhones, Android tables and phones, and Kindle-Fire tablets. Boom Cards apps are also available on the App Store, Google Play and the Amazon Kindle Fire store.
Boom Cards:
Are digital and interactive task cards
Are self-checking
Are super fun (like a game to the students)
Require NO printing, laminating, or assembling in any way
Can be used over and over
Are great paperless practice option for your classroom or homeschool students
Can be purchased on TPT or through the Boom Store on the Boom Learning website
Not sure your browser is modern enough? Try a free Boom Cards deck first OR Open the preview of this product to see a sample!
How do I play my Boom Cards?
After you purchase this product, you will download a PDF that will contain a link to your purchased cards on Boom Learning. To redeem your Boom Cards, you will create an account for Bloom Learning. The account that accompanies your purchase allows you to play the Boom Cards on interactive white boards and with individual students using Fast Play. Fast Play does not save student progress reports.
BUT– Bloom Learning is giving TPT customers/new users one year free at no charge AND gives you the ability to collect and maintain student progress reports/data for up to 80 students! To take advantage of this, you will need to create accounts for your students (usernames and passwords). At the end of your free year, you can choose to renew (or not). If you do not renew, you can continue using your Boom Cards with the Fast Play feature. If you wish to continue tracking student progress, you will need to purchase a (SUPER affordable!) paid account.
Boom Learning℠ and Boom Cards™ are the trademarks of Bloom Learning, Inc. Used with permission.
https://www.teacherspayteachers.com/Product/Phonics-Practice-Short-a-CVC-Words-Free-Boom-Cards-3190812