by Sweet Integrations
3rd – 5th Grade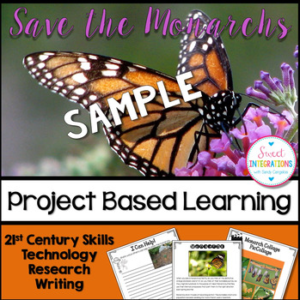 SAVE THE MONARCH BUTTERFLIES Enjoy a sample of the complete unit This beautiful migrating butterfly is quickly diminishing. After students gather information about the monarch, they can come up with their own ideas for SAVING THE MONARCHS. This PBL is filled with engaging activities, videos, and a Powerpoint about Monarchs.
This PBL unit incorporates 21st Century skills with challenging, engaging, and creative activities. There are lots of opportunity for differentiation and technology integration.
The complete unit Project Based Learning: Save the Monarchs
In the complete unit:
PowerPoint about monarch butterflies and vocabulary
QR Codes to videos (one of the QR Codes is a song. I wouldn't recommend it for older students.)
KWL
Parts of a butterfly
Crossword puzzle
Resources
I Wonder
Monarchs reading passage
Monarch Sightings table
Monarch Research guide
Mapping the migration
Butterfly Waystation (habitat) and grid
Graphic Organizer
Monarch Research report
Video Commercial
PicCollage with sample
Monarch Butterfly craft and facts with pictures
A Bit More… Additional resources and activities
Google Slides for research – (Replace the last part "edit?usp=sharing" with the word "copy"
You can just put your cursor at the end of the URL and hit delete up until the forward slash. Then type the word "copy" and hit enter.)
I Can Help
My Reflections
** Teachers, you can decide the order you wish to implement the unit. You may want some students to do some of the easier activities and others to do more research and problem-solving. They can easily work in groups during this project.
Please continue to visit my store for more project based learning units.
**Note: Activities can easily be adapted for enrichment or gifted students in other grade levels.
Project Based Learning Units
Project Based Learning Growing Bundle With All 25 Units
Economics/Math
Open a Pet Store With STEM
Project Based Learning: Ice Cream Shop
Project Based Learning: Open a Pizzeria
Project Based Learning: Party Planner
Project Based Learning: Plan a Bake Sale
Project Based Learning: Open a Toy Store
Project Based Learning: Design a Mini-Golf Course
Project Based Learning: Open a Food Truck
Project Based Learning: Open a Coffee Shop
Chocolate Shop
Environment/U.S.
Project Based Learning: Endangered Animals
Project Based Learning: Save the Honey Bees
Project Based Learning: Save the Monarchs
Project Based Learning: Save Our Oceans
Project Based Learning: U.S. Landmarks
Summer Olympic games
Seasonal
Project Based Learning: Earth Day Festival
Project Based Learning: Halloween Party Planner
Project Based Learning: Holiday Tea and Country Research
Project Based Learning: Fall Festival
Project Based Learning: Easter Egg Hunt
Project Based Learning: Slumber Party
*********************************************************************
Customer Tips
Earning TPT Credits
TpT credits are points, which can be applied to future purchases which will save you money. For every dollar you spend on TpT, you'll earn 1 credit.
After you make a purchase, rate and comment fairly on the product page of your purchased item. You need to do both to earn your credits. I value your feedback so I can create quality products for your classroom.
*********************************************************************
If you become a follower, you'll be the first:
– To know about new sales and discounts,
– Free products,
– And new product launches
You will now receive email updates about my store.
Drop by my blog, Sweet Integrations for more ideas for your classroom!
*********************************************************************
https://www.teacherspayteachers.com/Product/Project-Based-Learning-Save-the-Monarchs-FREE-SAMPLE-3004550