by Spark Creativity
7th – 10th Grade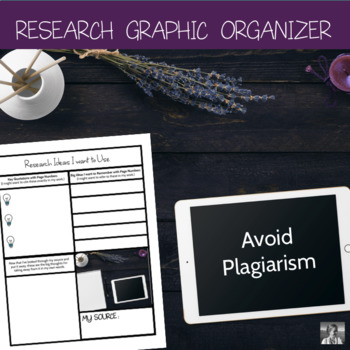 Want students to avoid plagiarism when using research in class assignments? The struggle is real, for you and them. But I've made you something to help.
Go one up on the traditional notecard by giving students copies of this graphic organizer to keep track of their research and attribute sources easily. A notecard just isn't much of a guide, but this handout is!
On the page, students have room to write down...
Quotations (!)
Big Ideas (!)
Takeaways in their own Words
Full Citation Information for their Source
By having students use these instead of notecards, and then having them put away all their source materials before writing, you give them the best chance possible of avoiding plagiarism and keeping their research nicely organized.
___
This is a brand new product for me, so I hope you'll consider leaving a review. It'll earn you credits for future purchases, make me soooo happy to have your opinion, and help other teachers understand whether this is the right activity set for their classroom. If there's an issue with the product that I can correct for you, please reach out to me at betsy@nowsparkcreativity.com.
Thanks!
Want more creativity in your classroom? You can find my stockpile of free creative curriculum, my podcast, and the link out to my 6,000 + member FB group, Creative High School English over here at my website!

https://www.teacherspayteachers.com/Product/Research-Graphic-Organizer-Better-than-a-Notecard-4573046
Join The Best of Teacher Entrepreneurs Marketing Cooperative at
http://www.thebestofteacherentrepreneursmarketingcooperative.com/2014/01/the-best-of-teacher-entrepreneurs.html
and get THOUSANDS OF PAGE VIEWS for your TpT products!

Victoria Leon's TpT Store
Go to http://www.pinterest.com/TheBestofTPT/ for even more free products!