by The Daily Apple Duo
Pre-Kindergarten – 6th Grade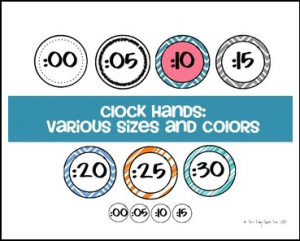 Please leave a comment! Once we have 10 comments we will open up another freebie!
These clock hands are great to put around your classroom clock to help your kiddos remember the minutes. Choose to print one color, or make a pattern using many colors! If you don't see a color that matches your decor, please email us to see if we can customize this product for you!
These would also be great to use in a small group or center area where students could velcro or glue the minutes around a clock face to demonstrate understanding of this skill. This would be an easy formative assessment.
Included:
4 Various Gray Circles
4 Various Color Circles
If you need a different size or color please contact us!
Includes 5 sets of 12 minute hand labels in five minute increments (:00-:55).
Please comment on this product! If you are not satisfied for any reason, please contact us first so that we can revise or edit this product. thedailyappleduo@gmail.com
Follow us! We have some exciting products in the works!
Click hereCheck out our Clock Arrows as an additional tool
Check out some of our other products here:
Click here Positive Behavior Punch Card Bundle
Click here Calendar Math Bundle
Click here Fraction Puzzles
Click here Editable Chevron Circles
https://www.teacherspayteachers.com/Product/Clock-Numbers-Various-Sizes-and-Colors-1653679
Go to http://www.pinterest.com/TheBestofTPT/ for even more free products!