https://www.teacherspayteachers.com/Product/I-Have-Who-has-Game-for-Teaching-Figurative-Language-and-Poetry-1019571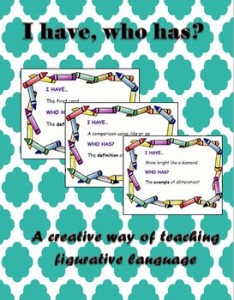 PRODUCT DESCRIPTION
The goal of this game is to help students memorize and understand FIGURATIVE LANGUAGE through the use of games. Playing rather than memorizing is a fun activity that will engage students in a classroom.
Included in this purchase is the MASTER SHEET, which contains the answers, attractive STUDENT CARDS, which you can print and cut out in colour (on card stock and laminate for sustainable use), and A SET OF RULES explaining how the game works.
This package contains 23 cards and 12 extra blank cards in case you have a bigger class.
It's teaching made easy!
IF YOU ARE NOT ABLE TO OPEN THE ZIP FILE, PLEASE
E-MAIL ME at teachwithpassion101@gmail.com . Be sure to include your e-mail address and buyer's name. I will send you an attachment directly to your e-mail address.