by Skool Aid Products
6th – 9th Grade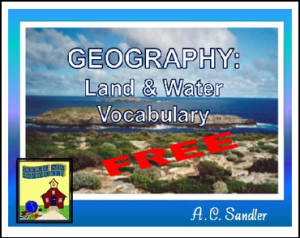 Geography Vocabulary is a colorful 44 slide power point covering land and water terms. It is geared towards middle schoolers and introduces them to the academic vocabulary used in their textbooks. It is aligned to the common core standards and each slide introduces 1 term, the definition, synonyms, and up to 3 pictures or illustrations of the term. This presentation has been successfully used with over 300 6th graders with a high level of receptivity and retention.
Contents:
43 slides
32 vocabulary slides
3 common core standards slides
1 Geography Common Core standard
2 ELA Common Core Standards:
– ELA Common Core Reading Standards for Literacy in History grades 6-8 Craft and Structure #4
– ELA Common Core Reading Standards for Literacy in History grades 6-8 Integration Knowledge and Ideas # 7

Product Format:
PowerPoint Show made in Microsoft 2013
Features include: slide sorter, laser pointer, digital pen, high lighter, and presenter's notes. This makes it possible to add or highlight notes directly onto the slides. It is possible to check out these features on the preview, by right clicking on the screen. A tool box will appear so that you can experiment with the various tools. To exit the presentation at any time click the Escape key.
**********************************FREE**************************************
32 slides of basic land and water terms paired with illustrations and definitions. Common Core Standards for History are included.
Please check out another Free product for teaching ancient history.
https://www.teacherspayteachers.com/Product/Ancient-Hebrew-Civilization-WRITING-LITERATURE-PowerPoint-Presentation-1113090

*****************************************************************************
How to get TPT credit to use on future purchases:
• Please go to your My Purchases page (you may need to login). Beside each purchase you'll see a Provide Feedback button. Simply click it and you will be taken to a page where you can give a quick rating and leave a short comment for the product. Each time you give feedback, TPT gives you feedback credits that you use to lower the cost of your future purchases. I value your feedback greatly as it helps me determine which products are most valuable for your classroom so I can create more for you. ☺

Do you like this style of teaching? Be the first to know about my new discounts, freebies and product launches:
• Look for the green star next to my store logo and click it to become a follower.Voila! You will now receive email updates about this store. ☺

*****************************************************************************
© 2014 SKOOL AID PRODUCTS. This purchase is for you and your classroom. Duplication for an entire school, an entire school system, or for commercial purposes is strictly forbidden. Please have other teachers purchase their own copy. If you are a school or district interested in purchasing several licenses, please contact me for a district-wide quote.
https://www.teacherspayteachers.com/Product/Geography-Vocabulary-Powerpoint-862546
Go to http://www.pinterest.com/TheBestofTPT/ for even more free products!