by I Love 1st Grade by Cecelia Magro
1st Grade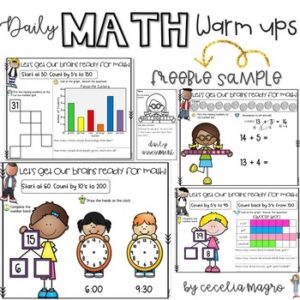 Daily Math Warm Ups are an easy way to get your students brains ready for math in 1st grade. This pack has 10 slides (1 week worth of lessons) as well as a practice page that corresponds with the day. Simply project and teach!
This freebie is a great way to check out my product line before buying.
We do Math Warm-ups every day before we begin our math lesson. They are a review of a variety of math skills based on the standards, that are completed whole group. After we finish our warm-ups, we are ready to begin our lesson of the day.
Since the lessons are done whole group, it is best to project the day's warm up so everyone can see. You can project it from your computer or print it out and project it using your document camera.
Students solve problems on white boards. They can work in table groups, individually or with their elbow partner. You may also choose to use these as a small group intervention – whatever best fits the needs of the students you teach!
After you complete the two pages of the day, there are optional follow-up practice sheets that you may use as extra practice or as an assessment to see which students mastered the skills reviewed. Based on results, you can then teach small groups to review or enrich math knowledge.
These easy to use and rigorous warm-ups are a simple way to get your students ready to do math!
As always, please ask questions before purchasing. Thank you so much!♥
Copyright© 2018 Cecelia Magro
All rights reserved by author. Permission to copy for single classroom use only. Electronic distribution limited to single classroom use only. Not for public display.
Daily Math Warm Ups:
Follow me!
INSTAGRAM
BLOG
FACEBOOK
PINTEREST
Be the first to know about my new discounts, freebies and products. Look for the green star next to my store logo and click it to become a follower.
https://www.teacherspayteachers.com/Product/Daily-Math-Warm-Ups-Sampler-FREEBIE-3617815