by Caffeine Queen
4th – 9th Grade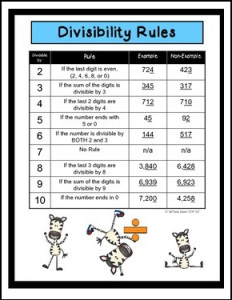 This cute one-page divisibility rules poster will come in handy during math class for students working on factoring, simplifying fractions, and more! A small version of the poster is included for students to use in their Interactive Student Notebooks (ISN) or binders so that they always have it handy. Finally, a short worksheet for individual students or partners is included so that students can work on the newly learned rules to help commit them to memory.
I hope you find this free download helpful and of high quality. If so, please give me some happy feedback and follow me (Caffeine Queen) and my store! I am hoping to grow much larger very soon! Thanks so much and check back for more products!
Fonts from "Hello Fonts" by Jen Jones. www.Teacherspayteachers.com/Store/Hello-Literacy
Clip art from Scrappin' Doodles. www.Teacherspayteachers/Store/Scrappin-Doodles
Frames/Papers by Lovin' Lit.
www.teacherspayteachers.com/Store/Lovin-Lit
https://www.teacherspayteachers.com/Product/Divisibility-Rules-Poster-Page-and-ISN-notebook-page-1072014
Go to http://www.pinterest.com/TheBestofTPT/ for even more free products!