Biomimicry for Young Children – Owls
By Sparking Children's Thinkibility
Grades: Kindergarten -3rd  Biology, Problem Solving, Visual Art
"Owls have special feathers and they make almost no sound when they are flying.
When is is good to be quiet? 
Can you invent a quiet machine?"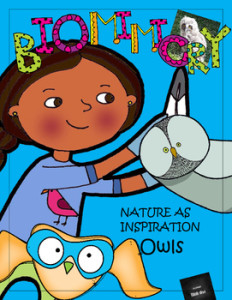 This freebie is a great introduction to biomimicry. Fun exercises and tips to encourage young children to look at owls and to get ideas for 'innovations and design'.
Biomimicry is an exciting way to inspire young children to be creative, curious and to observe the world. The projects are intended to inspire a playful and creative approach towards problem solving.
This topic also provides an opportunity to bring the learning outdoors – observing, listening and smelling are vital factors to build a foundation upon which ideas inspired by nature can be explored.
Owl watching may be a bit difficult but there a several good videos that you can use to study these magnificent creatures that are inspiring designers and innovators around the world.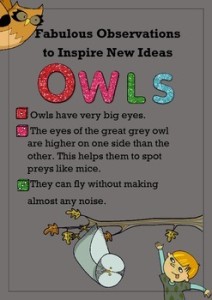 Link to Biomimicry for Young Children – Owls
Link to Free poster Biomimicry Fabulous Observations – Owls
I would be delighted if you like to follow me on:
Follow the Sparking Children's Thinkibility TpT Store
Follow the Sparking Children's Thinkibility Blog
Follow the Sparking Children's Thinkibility Pinterest