https://www.teacherspayteachers.com/Product/Romeo-and-Juliet-Unit-Bundled-1133010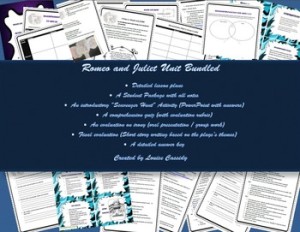 PRODUCT DESCRIPTION
ROMEO AND JULIET UNIT
This bundled unit has been designed to make life easier for the Language Arts teacher. It contains a teacher guide with detailed lessons, a student guide with all of the notes required by students, an answer key for students' work, and 3 evaluations (answer keys and evaluation rubrics included). All you need to do is print and begin teaching.
This purchase includes:
•A comprehensive Teacher guide with 15 detailed lessons (7 pages)
•A student guide with guiding questions and activities (focus on characterization, themes, figurative language, irony, etc…) -10 pages
•A Scavenger Hunt activity to introduce students to Shakespeare and his times (includes 8 colorful cards and a PowerPoint with answers.)
•A detailed answer key for students' work (10 pages)
•A quiz on Acts 1 and 2 – answer key included
•Oral presentation on Irony – evaluation rubric included
•Culminating activity – Students write a children's story based on the themes in the play. Evaluation rubric as well as work process sheets included (7 pages)
There are a total of 47 pages included in this unit.
The unit will last between 17 to 20 periods. (3 – 4 week unit)
All that's left is to teach. I hope you enjoy this unit.