by ZippadeeZazz
Pre-Kindergarten – 2nd Grade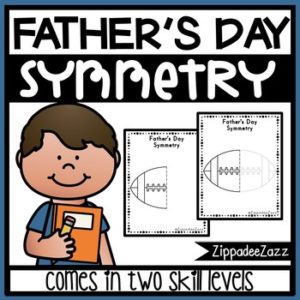 Symmetry drawing is the perfect way to use art to introduce math and geometry to elementary grades!
Father's Day Symmetry Drawings can be used to teach elementary students about symmetrical and asymmetrical shapes and objects in a fun and easy to explain way.
By using Father's Day symmetry drawings, your students will be more likely to understand and explain symmetry and lines of symmetry.
Symmetry drawings are a great way to add art into any unit and create unique and colorful bulletin boards!
This Father's Day themed Symmetry worksheet SAMPLE includes:
• 2 x Ball Symmetry Worksheets (with and without guides)
• High quality PDF format.
Want the full resource?
CLICK HERE FOR THE FULL RESOURCE
FIND MORE SYMMETRY WORKSHEETS
CLICK HERE FOR MORE SYMMETRY WORKSHEETS
Terms of Use (TOU)
This is a single license use – only for YOUR classroom, please do NOT distribute or share this product unless you've purchased an additional license.
Thanks for visiting our store!
© 2017 by Zippadee Zazz. All Rights Reserved.
https://www.teacherspayteachers.com/Product/FREE-Fathers-Day-Symmetry-Drawing-Activity-for-Art-and-Math-SAMPLE-3194412