Number 1 – 20 Read & Trace Free Samples
by Sue Kayobie
Pre Kindergarten, Kindergarten
This packet is designed to offer a fun, engaging and educational way to work on number recognition and counting skills during your school year. Your students will have to read the number and trace the lines to the matching word number.
This packet work well for independent work, literacy center ideas, fluency practice, homework, and for assessment use.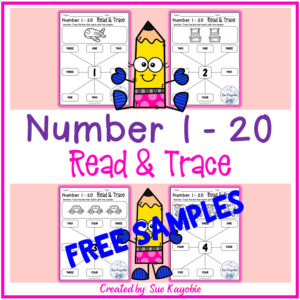 Number 1 – 20 Read & Trace Free Samples
Go to my TPT store to get the full version product:
This set is part of a bundle. Save some money with the bundle:
Follow my store to get more freebies, notification, and sale.
Thanks!
Sue Kayobie