by Katie Jones
4th – 5th Grade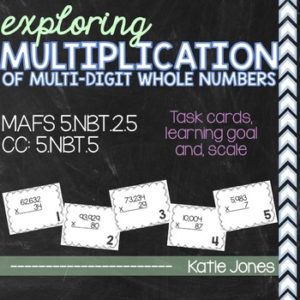 MAFS 5.NBT.2.5
Common Core 5.NBT.5 
Fluently multiply multi-digit whole numbers using the standard algorithm.
This product comes with the learning goal and scale. I've included a version with the common core standard and a version with the MAFS standard. There are 32 task cards for you to use in your student engaged classroom. The answer key is provided.
Task cards can be used for a variety of purposes, such as: 
1. cut apart and insert into academic notebooks for students to solve
2. exit slips
3. place in a learning center for students to practice while you meet with other students for differentiated instruction
4. Scoot!
Scoot! Directions: Place the cards around the classroom. Each student (or pair of students) start at a different card and solves the problem. The student records the answer on their paper. When the appropriate amount of time has passed (dependent on skill), signal for the students to rotate to the next card in numerical order. I like to use music to signal movement. Students continue to rotate around the classroom solving each problem. This is a great review activity to engage students and use movement in your classroom.
This produce is geared toward 5th grade standards. It could be used as enrichment in 4th grade or as an intervention tool in middle school.
Don't forget to follow me to stay up to date on my new products and freebies!
https://www.teacherspayteachers.com/Product/Multiplication-of-Multi-Digit-Numbers-FREEBIE-2651564