This Geometry Mega Bundle includes 16 sets of task cards about Geometry  and 1 set of 45 Geometry posters! Great posters to display in your classroom! The task cards are a great way to review      Geometry skills or  use for differentiating! This set is available in my TPT store: https://www.teacherspayteachers.com/Store/Believe-To-Achieve-By-Anne-Rozell
To see this resource click on the picture!
T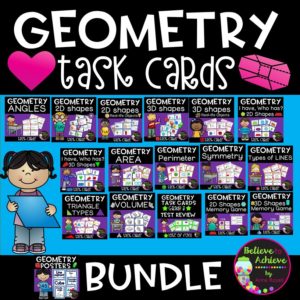 Here are the task card sets included:
✔Angles
✔2D shapes
✔2D Real life shapes
✔2D Memory Game
✔3D shapes
✔3D Memory Game
✔3D Real life shapes
✔Area
✔I Have, Who Has Game 2D
✔I Have, Who Has Game 3D
✔Perimeter
✔Symmetry
✔Types of lines
✔Types of triangles
✔Volume
✔Word Problems (Great for test review)
AND…
✔Set of 45 Geometry Posters!
**NOTE: These resources are also sold separately.
◈◈◈◈◈◈◈◈◈◈◈◈◈◈◈◈◈◈◈◈◈◈◈◈◈◈◈◈◈◈◈◈◈◈◈◈◈◈◈◈◈◈◈
These activities would work for grades 1-4!
◈◈◈◈◈◈◈◈◈◈◈◈◈◈◈◈◈◈◈◈◈◈◈◈◈◈◈◈◈◈◈◈◈◈◈◈◈◈◈◈◈◈◈
Here are some possible uses for these in your classroom:
✿ early finishers
✿ tutoring
✿ sub tubs
✿ math stations/centers
✿ holiday work
✿ small group
✿ end of unit quick assessments
✿ homework
✿ reinforcement
✿ enrichment
◈◈◈◈◈◈◈◈◈◈◈◈◈◈◈◈◈◈◈◈◈◈◈◈◈◈◈◈◈◈◈◈◈◈◈◈◈◈◈◈◈◈◈
Here are some other math resources you might to check out:
❤3rd Grade Daily Math GROWING BUNDLE
◈◈◈◈◈◈◈◈◈◈◈◈◈◈◈◈◈◈◈◈◈◈◈◈◈◈◈◈◈◈◈◈◈◈◈◈◈◈◈◈◈◈◈
Customer Tips:
How to get TPT credit to use on FUTURE purchases:
❤Please go to your My Purchases page (you may need to login). Beside each purchase you'll see a Provide Feedback button. Simply click it and you will be taken to a page where you can give a quick rating and leave a short comment for the product.
❤Each time you give feedback, TPT gives you feedback credits that you use to lower the cost of your future purchases.
❤I VALUE your feedback greatly as it helps me determine which products are most valuable for your classroom so I can create more for you.
Be the first to know about my new discounts, freebies and product launches. All new resources are 50% off the FIRST 48 hours!
❤Look for the green star next to my store logo and click it to become a follower. Voila! You will now receive email updates about this store.
◈◈◈◈◈◈◈◈◈◈◈◈◈◈◈◈◈◈◈◈◈◈◈◈◈◈◈◈◈◈◈◈◈◈◈◈◈◈◈◈◈◈◈
My TPT store:❤ Believe to Achieve Store by Anne Rozell
Follow my Pinterest boards:❤My Pinterest Boards
Follow me on Facebook:❤ My Facebook
Follow me on Instagram:❤ My Instagram
❤❤❤Follow me on my blog and receive a FREE EXCLUSIVE resource when you opt-in for my e-mail list : ❤ My Blog
BETTER ODDS THAN VEGAS!!!