by TeachingFSL
4th – 9th Grade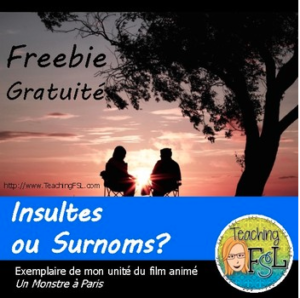 Our students should learn about kindness and inclusion during character education and as part of cultural education in foreign language classes. This free activity based on Un Monstre à Paris is to be used to learn about some names (terms of endearment or insults) that are used in the movie, and to launch a discussion about name calling, and how it is respectful to use terms of endearment only in the right context.
This free product includes a student handout version suitable for French Immersion as well as for Core French (or French as a foreign language) classes with late beginner to intermediate level skills. #KindnessNation #WeHoldTheseTruths You can find out more about it on my blog.
The French Immersion version of this freebie is one of two France culture lessons found on page 30-31 of my whole unit for the film Un Monstre à Paris, which can be obtained here on TPT.
Answer key also provided, as well as a page of relevant links to further explore name-calling, terms of endearment and bullying awareness with your students within the French as a second language program.
Affiliate links follow
You can obtain the movie Un Monstre à Paris from Amazon if you do not already have it or buy it along with another movie on the same DVD here also from Amazon (Jack et la mécanique du coeur).
For any suggestions or questions, please email me (address is within the package) or use the Q&A feature below. Follow me for information on new products by clicking the green star above or click here. I'd be happy to hear from you!
Mme Aiello
Teaching FSL