by Amanda Butt
Pre-Kindergarten – 1st Grade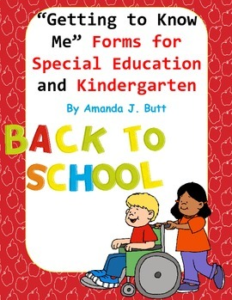 Back to School Getting to Know Me Forms for both Kindergarten and Special Education. The Special Education Form will work great, especially for nonverbal and multi-disabled students of all ages K-12. The Kindergarten Form will also work for higher functioning special education students or even Pre-school students. The forms are meant for the parent to fill out, and students who are able to respond to some of the questions can help their parent fill the form out.
Included: 2 Getting to Know Me Forms – Kindergarten Form and Special Education Form.
If you ♥ like ♥ this product, you may be interested in the following:
Back to School Tools and Products
♥ Thank you!
Copyright ©2014 – Amanda J. Butt – All rights reserved.
*********************************************************************
keywords for product: back to school; school; beginning of school; school year; 2014; get to know you, get to know me, form, forms, parent, parents, special education, special needs, special ed., autism spectrum, autism classroom, autism, meet the teacher, teacher, questions, send home, hand out, hand-outs, free, Amanda Butt, Amanda Butt's store, speech, speech therapy, low incidence, cvi, visually impaired, disabled,
https://www.teacherspayteachers.com/Product/Back-to-School-Getting-to-Know-Me-Forms-Special-Education-Kindergarten-Free-1345256