by Coach's Corner
2nd Grade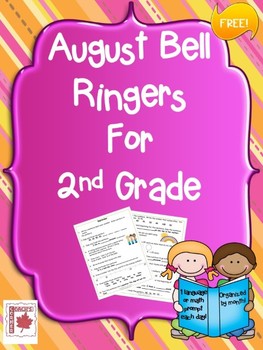 This FREE Bell Ringers for 2nd Grade (August edition) provides daily morning bellwork activities for Grade 2 students to complete while the teacher is handling attendance, milk money, etc.
The tasks were created to review and reinforce existing skills, so students are meant to handle the questions independently. This resource would also be appropriate for a split Grade 2/3 classroom.
The tasks are a mix of creative and academic activities, with areas covered including writing, grammar, patterning, phonics and measurement. An answer key is provided.
NOTE: The full year version of this product, Bell Ringers for 2nd Grade is available for sale in my TPT store, if you like what you see in this freebie!
Please be aware that this is the American version of August Bell Ringers for 2nd Grade. You can find the Canadian version, as well as other grade levels of bell ringers, at my TPT store.

https://www.teacherspayteachers.com/Product/Bell-Ringers-for-2nd-Grade-August-FREEBIE-301769
Join The Best of Teacher Entrepreneurs Marketing Cooperative at
https://thebestofteacherentrepreneursmarketingcooperative.net/the-best-of-teacher-entrepreneurs-marketing-cooperative-one-year-membership/
and get THOUSANDS OF PAGE VIEWS for your TpT products!

Go to http://www.pinterest.com/TheBestofTPT/ for even more free products!