by Astute Hoot
Kindergarten – 3rd Grade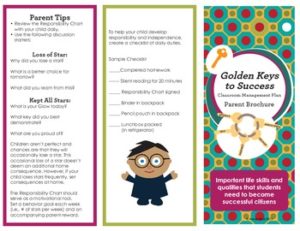 Whether it is the beginning of the school year or well into the year, if you are looking for an efficient behavior management program that builds character, promotes self-monitoring and ensures high behavioral expectations, Golden Keys to Success is the answer!
This program has made a huge difference in my students' behavior because it teaches them to be responsible for daily choices. Golden Keys to Success focuses on 5 important life skills and qualities that students need to become successful citizens:
1. Show respect
2. Take care of self
3. Be prepared
4. Be prompt
5. Participate
Furthermore it promotes home-school communication; students get their Responsibility Chart signed nightly so parents have daily behavior feedback.
Download our FREE sample for a great preview of our complete product. The sample includes a double sided parent brochure explaining the program and a reproducible Golden Keys ot Success student behavior chart.
The complete Golden Keys to Success unit includes the following:
–Explicit teacher directions for implementation and use
–Weekly Responsibility Chart
–Positive and negative consequences
–Daily, weekly and quarterly award certificates
–Behavior reflection sheet (Think Sheet)
–Key Behavior Chart for students who need individual behavior reinforcement (with explanation of use)
–Parent Brochure with overview of program, consequences and helpful parent tips
–Bulletin board templates and photos
–Key Club Induction directions and weekly activities (i.e. Star Student/ Student of the Week)
http://www.teacherspayteachers.com/Product/Golden-Keys-to-Success-Back-to-School-Classroom-Behavior-Management-Plan-725550
Also, check out our Golden Keys to Success lesson plans unit with 21 lesson plans and 34 engaging activities that teach each of the keys and specific behavior indicators listed on the Responsibility Chart.
http://www.teacherspayteachers.com/Product/Golden-Keys-to-Success-Behavior-Management-Lesson-Plans-Back-to-School-725643
https://www.teacherspayteachers.com/Product/FREE-Classroom-Behavior-Management-Sample-795919