by Core Inspiration by Laura Santos
Pre-Kindergarten – 2nd Grade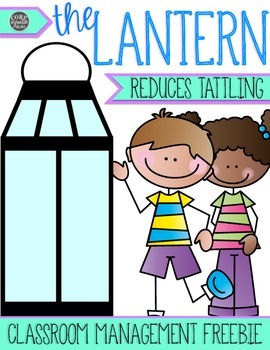 One of our challenges as teachers is to help students learn the difference between tattling and reporting. Often, students who tattle simply need an outlet to be heard. Rather than spending time after recess sorting through playground woes, have students record their concerns on a piece of paper and place it in The Lantern.
This management tool invites students to write or draw about their concern rather than sharing with you verbally, giving you time to address playground issues at an appropriate time.
This FREEBIE includes:
– Tips for setting up The Lantern in your classroom.
– Printable posters to cozy up The Lantern nook in your classroom.
– Link to my blog post about using The Lantern in my elementary classroom.
***************************************************************************
You may also be interested in my R.E.S.P.E.C.T. Classroom Behavior Management System, or my other classroom management tools.
***************************************************************************
Customer Tips:
How to get TPT credit to use on future purchases:
• Please go to your My Purchases page (you may need to login). Beside each purchase you'll see a Provide Feedback button. Simply click it and you will be taken to a page where you can give a quick rating and leave a short comment for the product. I value your feedback greatly as it helps me determine which products are most valuable for your classroom so I can create more for you. ☺
Be the first to know about my new discounts, freebies and product launches:
• Look for the red star near the top of any page within my store and click it to become a follower. Voila! You will now receive customized email updates about this store. ☺


https://www.teacherspayteachers.com/Product/The-Lantern-Reduce-Tattling-With-This-Classroom-Management-FREEBIE-1759093
Join The Best of Teacher Entrepreneurs Marketing Cooperative at
http://www.thebestofteacherentrepreneursmarketingcooperative.com/2014/01/the-best-of-teacher-entrepreneurs.html
and get THOUSANDS OF PAGE VIEWS for your TpT products!

Victoria Leon's TpT Store
Go to http://www.pinterest.com/TheBestofTPT/ for even more free products!