by Science Spot
5th – 9th Grade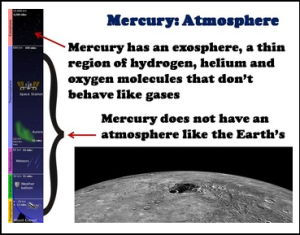 This PowerPoint is meant to introduce students to the planet Mercury. Students complete a graphic organizer which follows the lesson and includes the following information:
♦ How Large is Mercury
♦ How Far away from the Sun is Mercury
♦ What is the surface is like
♦ Composition of the atmosphere
♦ Temperature range
♦ Can it be seen with the naked eyes and where?
♦ Year and Day
♦ Possibility for life on the planet?
♦ Video on Mercury
This product is a sample of the full Product The Planets: A Solar System Tour. If you enjoyed this lesson on Mercury, please purchase the full product here.
This Product is a part of my Astronomy Bundle that includes every other astronomy product I sell as well.
========================================================
Customer Tips: How to get TPT credit to use on future purchases:
Go to your "My Purchases" page. Beside each purchase you will see a "Provide Feedback" button. On your "My Purchases" page, you will see a list of products you have purchased and a link to provide feedback. Remember, you earn TPT credits to use to purchase other products. These credits are just like cash! So please leave a feedback review, it would be much appreciated 🙂
I ♥ Followers!
Be the first to know about store discounts, free products, and product launches! Just click the green "Follow Me" star under my store name on this page or click the "Follow Me" star under Science Spot.
If you found the above product helpful, you might be interested in other products in my store: Science Spot
If you are looking for a specific topic, feel free to browse my categories:
♦ Anatomy
♦ Astronomy
♦ Biology
♦ Chemistry
♦ Dichotomous Keys
♦ Earth Science
♦ Games
♦ Lab Experiments
♦ Long Term Projects
~Lessons Only by Scott Stein
https://www.teacherspayteachers.com/Product/FREE-Space-Science-PPT-The-Planet-Mercury-A-Solar-System-Tour-1695627
Go to http://www.pinterest.com/TheBestofTPT/ for even more free products!