https://www.teacherspayteachers.com/Product/Frankenstein-Unit-No-prep-1758417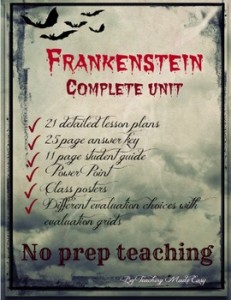 PRODUCT DESCRIPTION
FRANKENSTIEN UNIT (Improved and revised)
* NEW – THE TEACHER GUIDE AS WELL AS THE STUDENT GUIDE ARE NOW ADAPTABLE IN WORD FORMAT TO SUIT INDIVIDUAL NEEDS.
This unit has been created with the teacher in mind. The material is geared toward senior students with a focus on the construction of arguments. It also teaches the importance of historical context as well as literary allusions in the development of themes.
The thinking has all been done for you. The lesson plans are detailed and comprehensive. The student guide is visually appealing and facilitates the teacher's job. In addition, the answer key is comprehensive and detailed. All the teacher needs to do is to purchase this unit and photocopy it.
Take a look at the preview for more information.
What the unit contains:
1) The Teacher Package (17 pages)
-contains 21 detailed lessons (60-90 minute lessons)
-leading discussion questions and skill building activities (with detailed instructions for the teacher)
-important chapter notes on analysis
-the teacher package helps the teacher stay on task and stay organized because the planning has been done for you.
2) The Student Package (11 pages)
-pre-reading activity
-study guide questions
-a fact sheet regarding the Prometheus myth
-an activity on the use of nature in romantic literature
-an activity based on the symbols in the novel
-several activities that teach argument development
-an activity on theme development
3) A comprehensive answer key (25 pages)
-detailed answers for ALL student activities and work
-an annotate copy of the poem "The Rime of the Ancient Mariner" and activity answer key.
4) Also included:
-a PowerPoint introducing the novel's historical context and the author
-class posters with key elements in the novel
-a copy of "The Rime of the Ancient Mariner"
5) Various evaluations are also included: ALL EVALUATIONS ARE IN WORD DOCUMENTS IN ORDER TO MODIFY FOR CLASSROOM NEEDS.
– Test on letters 1-4 and chapters 1-10 (choice between multiple choice OR development questions)
-Test on chapters 11-18 (choice between multiple choice OR development questions)
-Unit evaluation (Choice between and essay (serveral different versions), a debate, a unit test – all work process is included)
ANSWER KEYS AND EVALUATION GRIDS ARE INCLUDED FOR ALL EVALUATIONS.
*As a bonus, I have included two automatic comment generators for Word documents (with drop down boxes.)