by Getting Nerdy with Mel and Gerdy
3rd – 10th Grade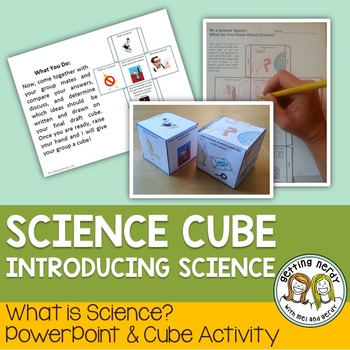 What exactly IS science? Are unicorns scientific? What about narwhals? What does science look like to your students? Whether you're just starting the year or you're already at the home stretch, discussing scientific principles is important in any science classroom. This FREE resource is the perfect way to grab students' attention and maintain their interest throughout the year.
​
WHAT'S INCLUDED IN THIS 1-2 DAY LESSON:
​EDITABLE Guiding PowerPoint
NON-EDITABLE PDF cubing template
​
STUDENTS WILL:
Answer questions listed on the cubes individually or groups
Complete the cube by writing or illustrating answers to the questions on the cube​
Assemble the cube and display it
SEE HOW THIS LESSON ALIGNS WITH THE NGSS, TEKS or GSE

Because we have created many of our own graphics or have purchased licenses to other graphics with permission, we cannot offer our resources in editable format unless otherwise stated.

TERMS OF USE (TOU):
All rights reserved by GETTING NERDY®️.
• This product is to be used by the original purchaser only
• Intended for classroom and personal use only
• Copying for more than one teacher, classroom, department, school, or school system is prohibited.
• This product may not be distributed or displayed digitally for public view
Failure to comply is a copyright infringement and a violation of the Digital Millennium Copyright Act (DMCA). Clipart and elements found in this PDF are copyrighted and cannot be extracted and used outside of this file without permission or license.
What is Science? Cubing Scienstructable​ © 2012 to present GETTING NERDY®️ All Rights Reserved 

www.gettingnerdyscience.com

https://www.teacherspayteachers.com/Product/What-is-Science-Cubing-Activity-Distance-Learning-1124558
Join The Best of Teacher Entrepreneurs Marketing Cooperative at
http://www.thebestofteacherentrepreneursmarketingcooperative.com/2014/01/the-best-of-teacher-entrepreneurs.html
and get THOUSANDS OF PAGE VIEWS for your TpT products!

Victoria Leon's TpT Store
Go to http://www.pinterest.com/TheBestofTPT/ for even more free products!