by Tied 2 Teaching
2nd – 5th Grade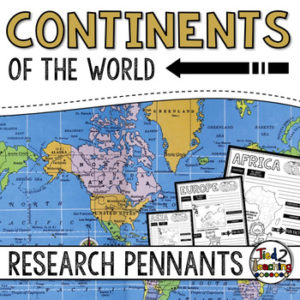 These Continents of the World Research Pennants come with 7 pennants for researching each of the continents. Perfect for any time of the year, these pennants are a great way to supplement your social studies instruction as well as help your students organize their research. Save time by integrating your social studies and ELA instruction!
In addition to being excellent informational organizers for your students, these continents pennants are great to use for bulletin boards or hallway displays.
This continents of the world research activity will have your students begging to study our world's geography!
Enjoy these as my gift to you! Wishing you and your students amazing learning experiences this year!
•••••••••••••••••••••••••••••••••••••••••••••••••••••••••••••••••••••••••••••••
QUESTIONS OR COMMENTS?
We welcome all questions or comments! Please feel free to e-mail us at tied2teaching@gmail.com!
•••••••••••••••••••••••••••••••••••••••••••••••••••••••••••••••••••••••••••••••
I LOVE MY FOLLOWERS!
Look for the green star at the top of the page next to my store logo. Click it to become a follower. When you do this, you'll receive customized email updates about Tied 2 Teaching, and information about sales and new products!
WOULD YOU LIKE TO EARN FREE PRODUCTS FROM TIED 2 TEACHING?
HERE'S HOW!!!
To earn TPT credits to use on future purchases:
Please go to your My Purchases page (you may need to login). Beside each purchase you'll see a Provide Feedback button. When you click it and you will be taken to a page where you can give a quick rating and leave a short comment for the product. You can check your credit balance in your TpT Credit Balance page. Every 100 Credits is worth $5 that you can apply towards future TpT purchases in my store, or any TpT store. I value and appreciate your feedback!
•••••••••••••••••••••••••••••••••••••••••••••••••••••••••••••••••••••••••••••••
https://www.teacherspayteachers.com/Product/Continents-Research-Pennants-3011365