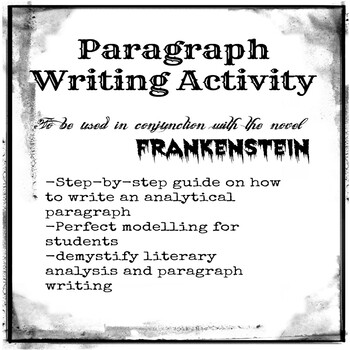 Description
Paragraph Writing Activity in conjunction with Frankenstein
Very often, students have difficulty with the analysis process involved in literature. Where they not only have to analyse but now have to apply their newfound skills to a well-developed paragraph, some students become overwhelmed with the process.
This particular activity will focus on both the analysis and writing a paragraph using the PEEL method.
Paragraph writing and analysis are two essential components in essay writing. To facilitate this process, I have created a lesson where students can become more comfortable with the revision process by modelling the proper steps from beginning to end. The lesson includes a modelling of the writing process from understanding the topic to the final draft. See preview for details
This lesson can only be used after students have read chapter 19 from the novel Frankenstein.
5 pages total
You may also be interested in the following products:
It's teaching made easy!
Total Pages
5 pages
Answer Key
N/A
Teaching Duration
N/A