Tag Archives :
#teachershelpingteachers
---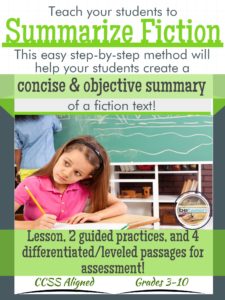 Teach your students how to create a concise and objective summary of a fiction text with this simple, easy, step-by-step method. Students will be able to effectively condense a complete summary into three sentences. Students will be able to identify the protagonist, the character motivation, the conflict, rising action, and the resolution in these three sentences! This step-by-step method will make this process easy for your students.
Included:
– Lesson and complete lesson plan
– Two fun and engaging guided practices and partner collaboration practices
– Differentiated assessment options. Four short stories will allow your students to read through an appropriately leveled text as they work to create their concise and objective summary!
– Graphic organizers to support students as they draft
CCSS Aligned:
CCSS.ELA-LITERACY.RL.4.2
CCSS.ELA-LITERACY.RL.5.2
CCSS.ELA-LITERACY.RL.6.2
CCSS.ELA-LITERACY.RL.7.2
CCSS.ELA-LITERACY.RL.8.2
CCSS.ELA-LITERACY.RL.9-10.2
No Prep Plans!
Follow my store by clicking on the link at the top of the page for updates, announcements, and fun freebies! You can also find me on Pinterest, Facebook, and my blog- Teach BeTween the Lines!
Other Writing Lessons/Units You May Want to Consider!
Introductory Phrases with AAAWWUBBIS, Lesson, Stations, Games, Practice, Poster!
Compound Sentences with FANBOYS Lesson, Stations, Practice, & Assessment
Writing the Argument Essay Complete Unit Bundle + Student Interactive Notebook
Literary Analysis Made Easy (Digital and Printable!)
In-Text Citation Lesson, Practice, and Assessment, MLA 8th Edition
Free Writing Support!
Sentence Structure Posters
To Be Verb Poster Freebie
Shakespeare's A Midsummer Night's Dream: Literary Analysis- Digital & Printable!
Created by: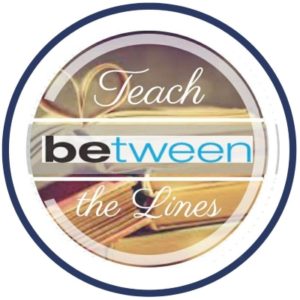 ---