From Teach BeTween the Lines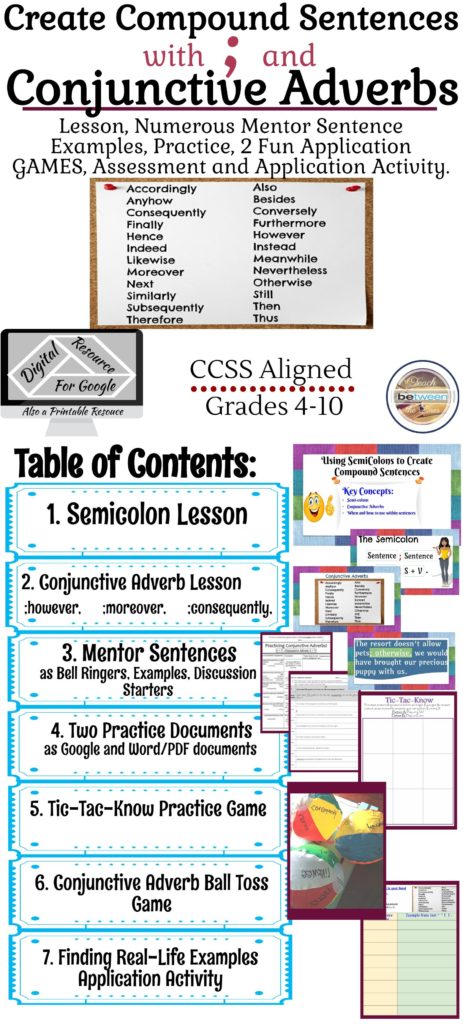 Teach your students how to create compound sentences with semicolons, and compound sentences with semicolons and conjunctive adverbs! This Lesson will provide your students with explicit explanations using mentor sentences, two fun games, two great practice activities, application activities, and a potential summative assessment!
The lesson consists of a PowerPoint/Google Slides to show your students how to craft these tricky compound/complex sentences. Mentor sentences foster classroom discussions, demonstrate quality writing, and model the correct use of semicolons with an adverbial conjunction. Students will be able to identify, explain and apply the most common conjunctive adverbs to craft rich and interesting sentences.
Tic-Tac-Know game asks students to practice and apply their knowledge while having a great time playing tic-tac-toe with their peers.
Conjunctive Adverb Ball Toss game will have your students racing to complete semicolon/conjunctive adverb challenges, creating complete engagement through the practice of sentence creation! My students beg to play this game anytime we have a few extra minutes!
Two Practice Word Document/Google Document will allow your students to practice crafting these compound sentences.
Finding Examples Activity will have your students searching for their own mentor sentences within their reading. Students can then work with you to create a bulletin board of compound sentence examples.
CCSS Aligned
Follow my store by clicking on the link at the top of the page for updates, announcements, and fun freebies! You can also find me on Pinterest, Facebook, and my blog- Teach BeTween the Lines!
Other Writing Lessons/Units You May Want to Consider!
Introductory Phrases with AAAWWUBBIS, Lesson, Stations, Games, Practice, Poster!
Compound Sentences with FANBOYS Lesson, Stations, Practice, & Assessment
Writing the Argument Essay Complete Unit Bundle + Student Interactive Notebook
Literary Analysis Made Easy (Digital and Printable!)
In-Text Citation Lesson, Practice, and Assessment, MLA 8th Edition
Free Writing Support!
Sentence Structure Posters
To Be Verb Poster Freebie
Shakespeare's A Midsummer Night's Dream: Literary Analysis- Digital & Printable!
---