Tell us about yourself.
I will start my 8th year of teaching in the fall. All of those years have been in 4th grade. I love those kiddos! In addition to teaching, blogging, and making products for TpT, I love to cook, sew, and garden. Find out more about me on my About Me page.
What do you like best about teaching?
I love the look in the eyes of a kid who finally "gets it." I also love investing in the kids and believing that they can be great, even if they don't believe it.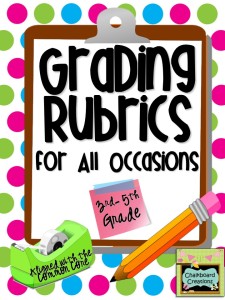 Describe your favorite TpT product.
My favorite product is Grading Rubrics for Every Occasion (3rd-5th grade). I love this product because you can use it to grade so many different things! It is such a great tool to use, especially when you have a huge pile of grading and the end of the quarter is creeping up…
It includes 14 easy-to-use rubrics on everything from interactive notebooks, to presentations, to science projects. There are also 4 self-evaluations for students to fill out. Each rubric comes in 4 point or 5 point scales, and also in full or half sheet printables.
What advice would you give to someone who may want to become a seller at Teachers Pay Teachers?
Be patient. This is not something that happens overnight. It takes a long time, but it is so rewarding. The feeling that you get when you help a student learn–that's the same feeling you get when you create a great product that helps other students learn all over the world! Hang in there!
What have you done or hope to do with your TpT earnings?
Because of TpT I am able to teach part-time. This way I am able to stay home a few more days each week with my two precious kids!
What do you like best about being a member of The Best of Teacher Entrepreneurs Marketing Cooperative?
The sellers that are a part of the cooperative are so encouraging and supportive. The cooperation between these people is amazing!
---