Combine literacy and social studies while letting your students have fun! Your students will love these 5 scavenger hunts about the U.S. Regions.  This is a bundle of the 5 regions into one, so you can click print and have a great supplemental activity for your class. Each region contains 25 task cards for a total of 120 task cards and 120 questions for the bundle.  Your students will learn at least one fact for state and also national monuments, famous buildings, national parks and tourist attractions.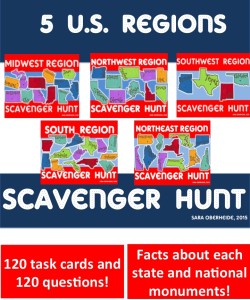 You can use these cards in anyway you want for your classroom, but this is how I use them in my class.
1.  Print the region that you are currently working on in class.
2.  Cut the task cards apart and print the student questions for students.
3.  Tape the cards around your classroom or hallway.
4.  Let the students hunt for the cards and answer the questions on their sheets.
5.  Answer keys are included for quick grading.
My students beg me to keep working on this activity and I really truly believe that the movement of walking around the classroom searching for cards helps them remember more facts.
You can find this resource HERE!
US Regions Scavenger Hunt – BUNDLE
Here is an example of the task cards and questions from the Northeast Region.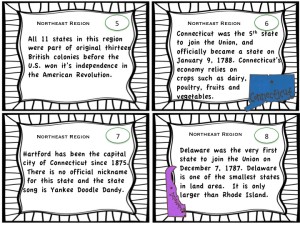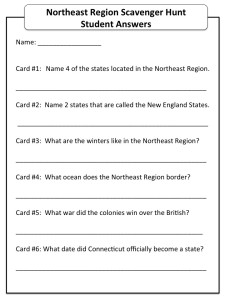 Thank you for viewing this post.  I hope this helps you in your classroom!
Sara Oberheide
https://www.teacherspayteachers.com/Store/Sara-Oberheide

---